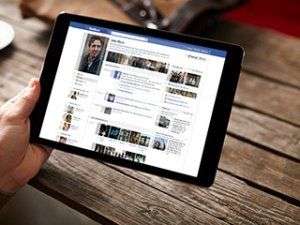 Double vision, also known as "seeing double" or the medical term diplopia, is the perception of two images of a single object. This occurs when two nonmatching images are sent to the part of the brain that processes visual input. Over time, the brain eventually begins to compensate for this misinformation by suppressing one signal so that only a single image is perceived. There are many different causes for double vision, ranging from life-threatening to benign. Consequently, when diagnosing double vision and creating a treatment plan, it is critical for a medical professional to determine the specific cause in order to develop an appropriate treatment plan.
Symptoms of Diplopia
Common symptoms of double vision include the visual appearance of objects overlapping each other or appearing adjacent to one another. This visual overlap can vary as the affected individual turns or tilts his head or gazes from side to side.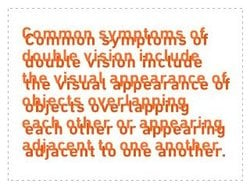 There are two types of double vision: monocular and binocular. With monocular diplopia, double vision is affecting both eyes and does not resolve itself when a single eye is covered. For binocular diplopia, the eyes are simply misaligned and when one eye is covered, the condition is resolved. Each eye is seeing the correct single image when working alone, but when the eyes are working together, the brain perceives two adjacent images.
Diagnosis and Treatment
Correctly diagnosing the cause for diplopia is essential to developing an appropriate treatment plan. An eye care professional will start by taking a detailed medical history, including when the problem first began, whether it was a sudden onset or developed gradually, and whether the double vision is a frequent problem or an intermittent concern. The eye care professional will conduct a physical examination to measure visual acuity in each eye. This is necessary to determine whether the double vision is monocular or binocular.
An eye care professional will also examine how shifting the head's position affects the double vision. If a neurological cause is suspected, close attention will be paid to the pupils and eyelid position when looking for ocular or orbital abnormalities. In some cases specialized imaging, like an MRI, may be necessary.
Treatment for double vision depends on the cause. In the case of monocular diplopia, refractive errors can be corrected with glasses or contact lenses; if cataracts are the cause, surgery can correct this problem. For binocular diplopia, however, a serious condition is typically associated with the eye misalignment. Correctly diagnosing the disease, like diabetes, high blood pressure, or myasthenia gravis is essential to determining the appropriate course of treatment.