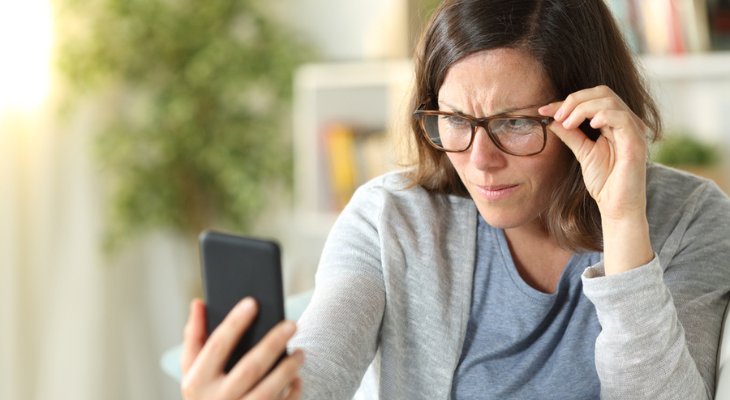 Treatment Options for Presbyopia
Reading glasses aren't the only option if you're struggling to read the fine print due to presbyopia. Contact lenses, refractive surgery, or special eye drops could also help you see close objects clearly. Your optometrist can help you choose the best solution for you.
How Presbyopia Affects Your Vision
Have you noticed that you have to hold books and papers farther away from your eyes to see clearly lately? If you're 40 or older, you may have presbyopia, a vision problem related to aging. Nearly everyone develops presbyopia, including people who've never had to wear glasses or contact lenses in the past.
Presbyopia affects the lens inside your eyes. Located behind your iris and pupil, the lens focuses light rays on the retina, a layer of light-sensing cells that line the back of the eye. Your lens constantly changes shape to accommodate near, intermediate, and distance vision. The lens becomes less flexible with age, which makes near objects look blurry.
8 Ways to Treat Presbyopia
These options can help you improve your near vision:
Reading Glasses. Reading glasses offer the least expensive way to correct your near vision. Although you can buy reading glasses at many stores, it's best to visit your optometrist for a prescription. The reading glasses available at the drugstore or grocery store are available in limited strengths and may not offer the sharp, crisp vision prescription reading glasses provide.
Bifocal or Trifocals. If you're nearsighted or farsighted, adding an extra lens power to your eyeglasses for near vision will help you see better. Bifocals include two lens powers separated by a thin line, while trifocals include three lens powers separated by lines.
Progressive Lenses. Progressive lenses work the same way as bifocals and trifocals without the lines.
Contact Lenses. Multi-focal contact lenses offer several lens powers in one contact lens. Each power gradually transitions to the next one for seamless vision. Monovision contact lenses offer another option. One lens corrects distance vision, while the lens in the other eye improves near vision. Your eye doctor will give you a few trial pairs of monovision lenses, as some people feel dizzy wearing different lenses in each eye.
Prescription Eye Drops. Special eye drops could also sharpen your near vision. The drops are placed in your eyes once a day and improve your vision for as long as six hours.
Surgical Options Your Optometrist Can Suggest
LASIK Refractive Surgery. Laser-Assisted In Situ Keratomileusis (LASIK) provides a permanent solution to vision changes caused by presbyopia. During the surgery, your eye doctor uses a laser or a blade to make a small flap in your cornea, the clear tissue that covers the iris or pupil. A laser reshapes the underlying layers of the cornea, correcting your vision. If you choose LASIK, one eye will be corrected for near vision and the other for far. It may be a good idea to try monovision contact lenses for a few days before the surgery to ensure that this will be a good option for you.
Corneal Inlays. Corneal inlays are implants placed in the cornea directly in front of your pupil during minimally invasive surgery. The inlays change the way light ways focus on your retina, improving your near vision. Inlays are usually added to just one eye.
Refractive Lens Exchange. Replacing the lens with an artificial lens called an intraocular lens implant (IOL) provides another presbyopia treatment option. The surgery permanently improves your near vision and makes it possible to give up your reading glasses. When performing a refractive lens exchange procedure, eye doctors use the same techniques used to replace cloudy lenses during cataract surgery. If you think you will need cataract surgery soon, ask your doctor about using an IOL that will correct your presbyopia.
Has presbyopia worsened your vision? Schedule an appointment to learn more about these treatment options.
Sources:
NCBI: Clinical Ophthalmology: Presbyopia – A Review of Current Treatment Options and Emerging Therapies, 5/24/2021
Ophthalmology Times: FDA Approves Eyes Drops for Treatment of Presbyopia, 10/30/2021
American Academy of Ophthalmology: What Is Presbyopia? 2/3/2022
American Optometric Association: Adult Vision: 41 to 60 Years of Age