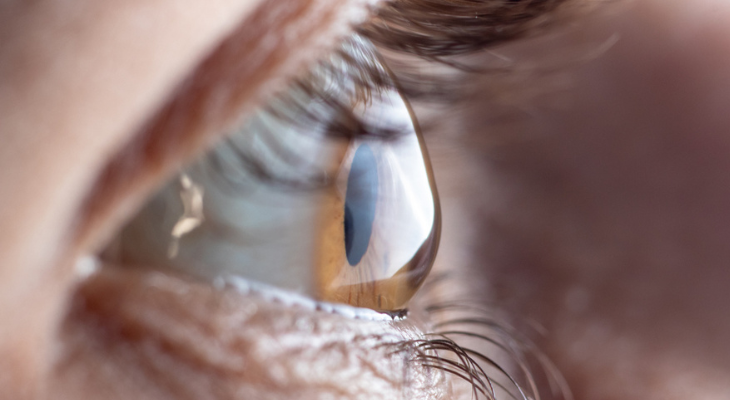 Your Blurry Vision Could Be Caused by Astigmatism
Does everything look blurry, whether you're reading a book or watching the sun set in the distance? Your blurry vision could be caused by astigmatism, a refractive error that affects 1 in 3 people, according to the American Academy of Ophthalmology.
When Everything Is Blurry
Myopia (nearsightedness) makes distant objects look fuzzy, while hyperopia (farsightedness) affects your ability to see close objects clearly. Astigmatism, another type of refractive error, causes blurry vision at both near and far distances. Refractive errors happen when light rays entering the eye aren't properly bent (refracted) and focused on the retina, the light-sensing cells that line the back of the eye.
Astigmatism can occur on its own or can happen in combination with myopia or hyperopia.
Astigmatism Symptoms and Causes
Blurry vision isn't the only symptom of astigmatism. The refractive error may also cause headaches and eyestrain, particularly after reading or spending time using your laptop or tablet.
Astigmatism may also make it difficult to see well at night or in dimly lit rooms and can cause halos around lights.
Astigmatism can be occur due to an issue with:
Your Cornea. The cornea, the clear round tissue that covers your iris and pupils, bends light rays as they enter your eyes. People with astigmatism often have corneas that are shaped more like footballs than round balls. The unusual shape makes it harder for the cornea to bend light rays correctly.
Your Lens. Astigmatism may also be caused by the clear lens inside the eye. The lens, located under your iris and pupil, also helps focus light rays on the retina.
Both the Cornea and the Lens. In some cases, curvature problems in both the lens and the cornea can cause astigmatism.
Although astigmatism often occurs for unknown reasons, you may be more likely to develop it if you had eye surgery, an eye injury or keratoconus, according to the American Optometric Association. Keratoconus is a condition that causes the cornea to become thinner and cone shaped.
What You Can Do to Improve Your Vision
If you have astigmatism, your optometrist can recommend several options that will sharpen your vision, including:
Eyeglasses or Contact Lenses. An additional lens power added to your contact lens or eyeglass prescription keeps light rays focused at the correct place on the retina. If you wear contact lenses, your eye doctor may prescribe toric, hybrid, or gas permeable lenses, depending on the degree of astigmatism. Your optometrist can help you decide which type of lenses are best for you.
Refractive Surgery. Refractive surgery changes the shape of your cornea, allowing you to see clearly without glasses or contact lenses. During laser in situ keratomileusis (LASIK), a laser is used to make a small flap in the cornea and reshape your corneal tissue. Photorefractive keratectomy (PRK) involves reshaping the cornea by completely removing the outer layer. Both procedures can also improve near and far vision.
Orthokeratology. Orthokeratology, another astigmatism treatment option, temporarily reshapes your cornea, providing hours of clear vision. Special contact lenses worn at night improve light refraction by flattening the center part of your cornea. In the morning, you'll remove the lenses and enjoy sharp vision throughout the day. You must wear the contact lenses every night or your vision will become blurry again.
A visit to the optometrist can help you correct astigmatism and improve your eyesight. Give us a call when you're ready to make an appointment for your vision exam.
Sources:
National Eye Institute: Astigmatism, 6/26/2019
American Optometric Association: Astigmatism